Are you tired of waking up early and going to your office everyday? Are you looking for a part-time job? Do you want to spend more time with your family? Do you want to earn great income without living the country?
If your answer is "YES", then this is the opportunity that you've been waiting for.
Do you know that you can earn great income from home?
Yes, you read it right! There are many ways to earn online and I will show you how.
I once worked with a huge multinational company in Libis, Quezon City for almost 3 years, including my 6-month internship, as part of the Outsourced SAP-HR Payroll Team. I really enjoyed working with this company since I met a lot of friends here. I can say that this company has the best working environment since I have also worked at another company later on. Just like you, I worked as hard as I can to be the best employee at my level. As a result, I received a lot of recognitions and I was promoted to Associate Team Lead after a year which is good. Everything went well except for one thing, the compensation. I'm actually earning around 28k Gross (22k net) including the perks before I left the company. However, the compensation was not enough for my expenses since I live in Pasay City.
To pursue my dreams, I decided to put up my own food business and I was able to get two franchisees after a year. Unfortunately, one of my franchisees branch in Metropoint Mall was eaten up alive by Siomai House so we decided to relocate it instead. We're currently selling chicken nuggets and flavored French fries and the business is doing well in schools, but I'm thinking of improving or changing my products to compete with the food establishments located in malls. I'm still working on it now so I refrained from entertaining new franchisees until I have completely refined my business.
While doing a market research last year, I came across oDesk which is an online job / work from home website.
oDesk is quite promising compared to other online job websites. It has a lot of tools used for online jobs / work from home tasks to help you build your career, track your online work hours, and communicate with your employers online.
oDesk
lets Freelancers earn great income from the comfort of their home. It lets small businesses hire, manage, and pay remote contractors as if they were in their own office. With more than 220,000 businesses seeking skilled workers, and 805,000 service providers from over 150 countries, oDesk is changing how the world works. Joining oDesk is free and it's 100% guaranteed that you'll get paid for your working hours logged.
Again, oDesk is 100% FREE to join. Other online job / work from home websites require monthly fees for you to continue working with your employers. I have used different online job / work from home websites but I think oDesk is the best online job / work from home site since it has a lot of high-paying employers. oDesk is also the only online job / work from home site that offers guaranteed pay for its contractors.
Joining oDesk to do online jobs offers unlimited opportunities.
You can apply for data entry jobs, virtual assistant, customer service, real estate, accounting, Search Engine Optimization (SEO), web design, web development, software developer, etc. I can assure you that you can get the right job that would fit your skills and experience. I even worked with an SAP-HR Payroll company in oDesk to configure US Tax. Since I have a 3-year experience in SAP-HR Payroll, I was offered $30 per hour (see below screenshot). I just want to let you know not you're not limited to doing data entry jobs in oDesk because you can literally use your skills and experience to earn great income online.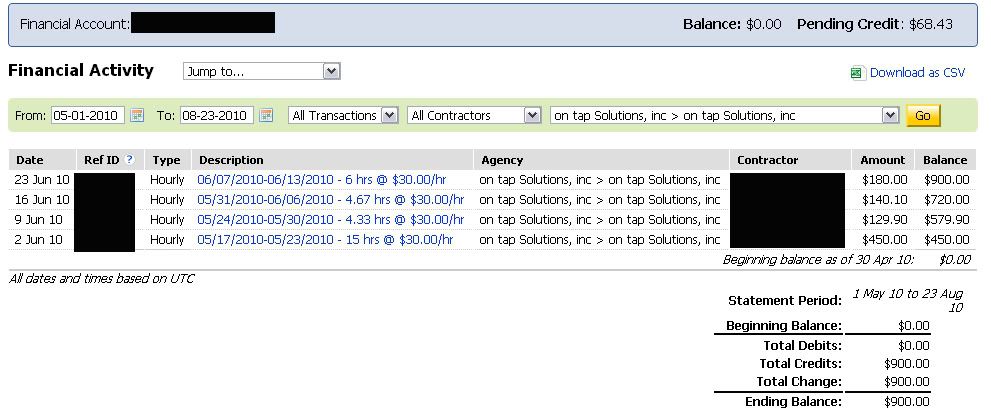 oDesk also has the best tools in place compared to other online job / work from home websites. You can use oDesk Team Application to bill and track your working hours automatically. It also allows you to communicate with your employers and teammates. And guess what, withdrawing your earnings can be done online too. You can choose from their wide range of withdrawal methods – PayPal, Local Funds Transfer, Payoneer Debit Card, Wire Transfer, etc.
Currently, I'm earning at least $300 per week from just one employer (see below screenshots of my earnings).
I have 12 other active contracts with 12 different employers. Imagine how much you could earn in a week. If you are a reliable and hardworking person, then you can do the same.
I've been working at oDesk for a year now. I'm already running an oDesk Company/Agency named Global Experts with 38 contractors. I occasionally have job openings so I'm willing to add you to my team if you have a good profile and test scores. Just let me know if you would like to join my team. Otherwise, you can also work on your own. I'm providing you below guidelines on how to be successful in doing online jobs through oDesk:
Follow below step by step procedure to earn massive income from home through oDesk:
1.
Create your oDesk account at below link:
2.
Fill up the required fields/details to complete your oDesk registration. Check below link for tips on how to Get Started on oDesk:
3.
Work hard on your profile which will act as your online resume. This would be your best tool to land a great online job. Check below link for tips on how to Create an Effective Profile:
4.
Take the oDesk Readiness Test. There's no limit in retaking this test. There's also a link at the bottom of each question on where you can find the answers. You just need to read it carefully. You'll definitely benefit from the topics included in the exam since these are the things that you need to know when working at oDesk.
5.
Take additional test/certifications to showcase your profile. Except for the oDesk Readiness Test, all the tests/certifications can only be taken once a month.
6.
Apply for online jobs! You may bid around $2-3 per hour to start off. Then gradually increase your rate as you get more online jobs. Don't bid too low. Employers will just have an impression that you're not that good in what you're doing so you're bidding that low. I'm applying for 10-15 online jobs per day when I started. It could be frustrating at first. But once you already have feedbacks from employers, I can assure that the employers will start coming to you.
7.
Enjoy working from home and earning online!!! :)
Note: Don't forget to add your withdrawal method for you to get your earnings. I personally use Paypal but there's already a new withdrawal method – Local Funds Transfer which allows you to withdraw your income directly to your bank account.
You may visit my blog site for more tips and tricks on how to earn great income online:
Online Jobs / Work from Home
Please subscribe to my blog and share it to your friends. I will be posting more details on my blog on other ways to earn online soon…
HAPPY EARNING ONLINE!!! :)
Let me know if you have any questions. Thanks!